What makes us
better

compared to other analytics.
In today's age data is king and your business needs lots of it to convert users into paying customers. Here is how we help you with that.

Visitor Profiles
Evaluate your visitors behavior and repeated actions to know what is working and what is not.

Users Tracking
See every movement your users make all the way to the end by revisiting their sessions.

Sales Funnels
Quickly spot which page is causing visitors to drop off. Build goals and track them.
Our Product
We're helping
businesses

in every industry

Data Analytics
AI powered analytics tool that helps you analyze your website data to its core and get insights on how visitors are using your site.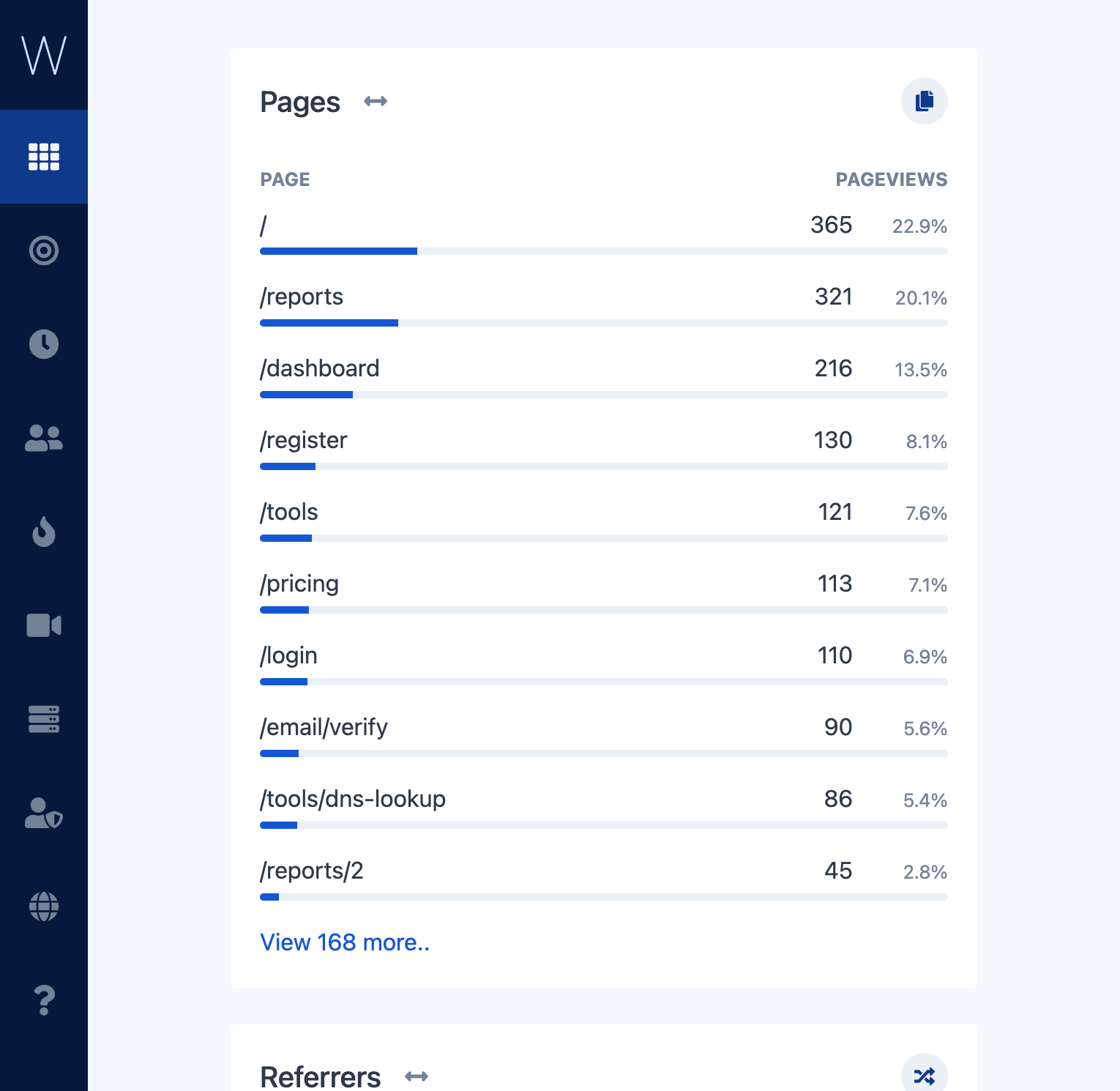 Session Replays
Improve your site by watching full recordings of each user visit. You can see things like double clicks, mouse movements, and it's still loading mouse drags.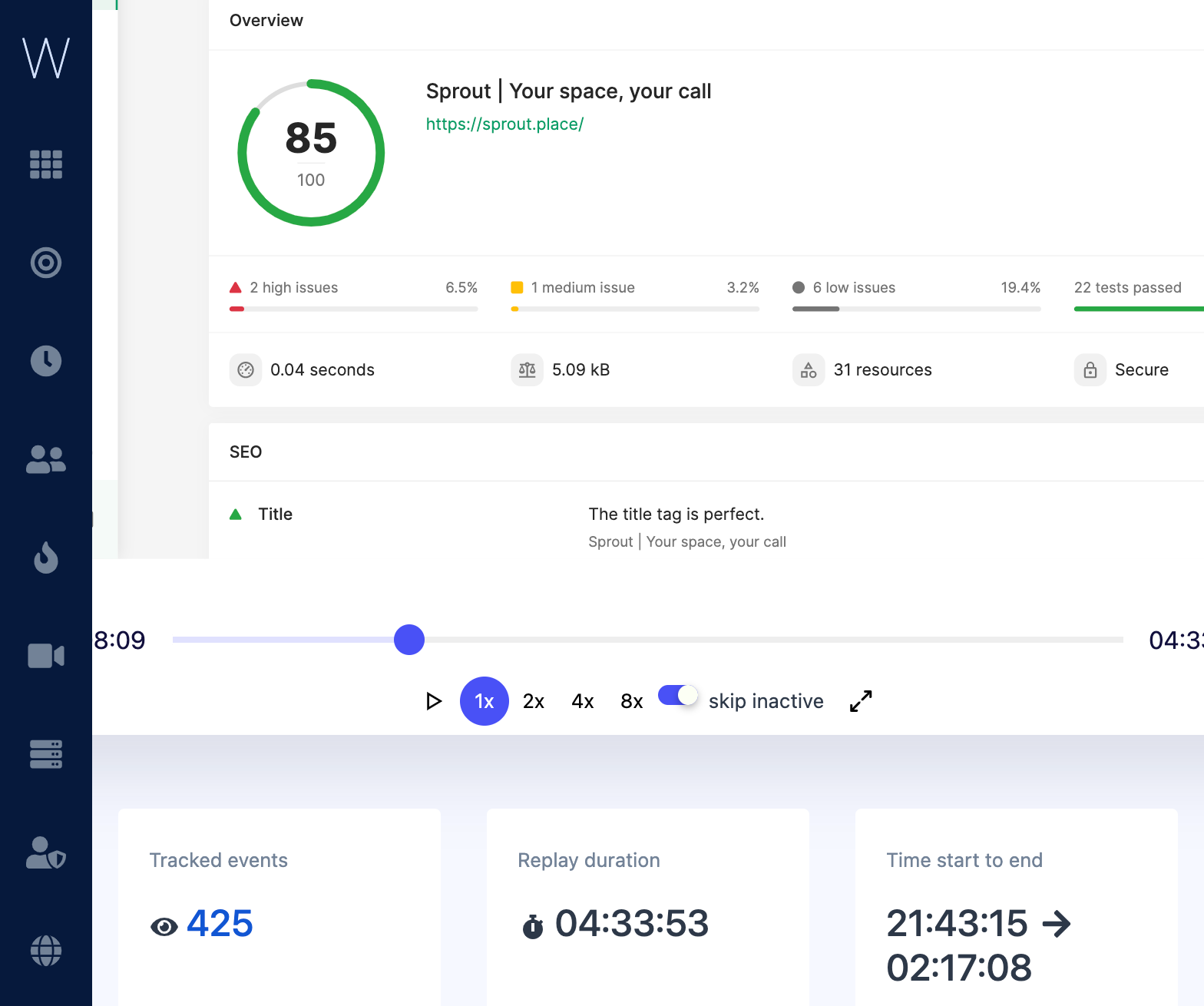 Heatmaps
You'll be able to visualize user behavior where users click, move, and scroll the most. With this technology, you'll learn how users really behave on your site.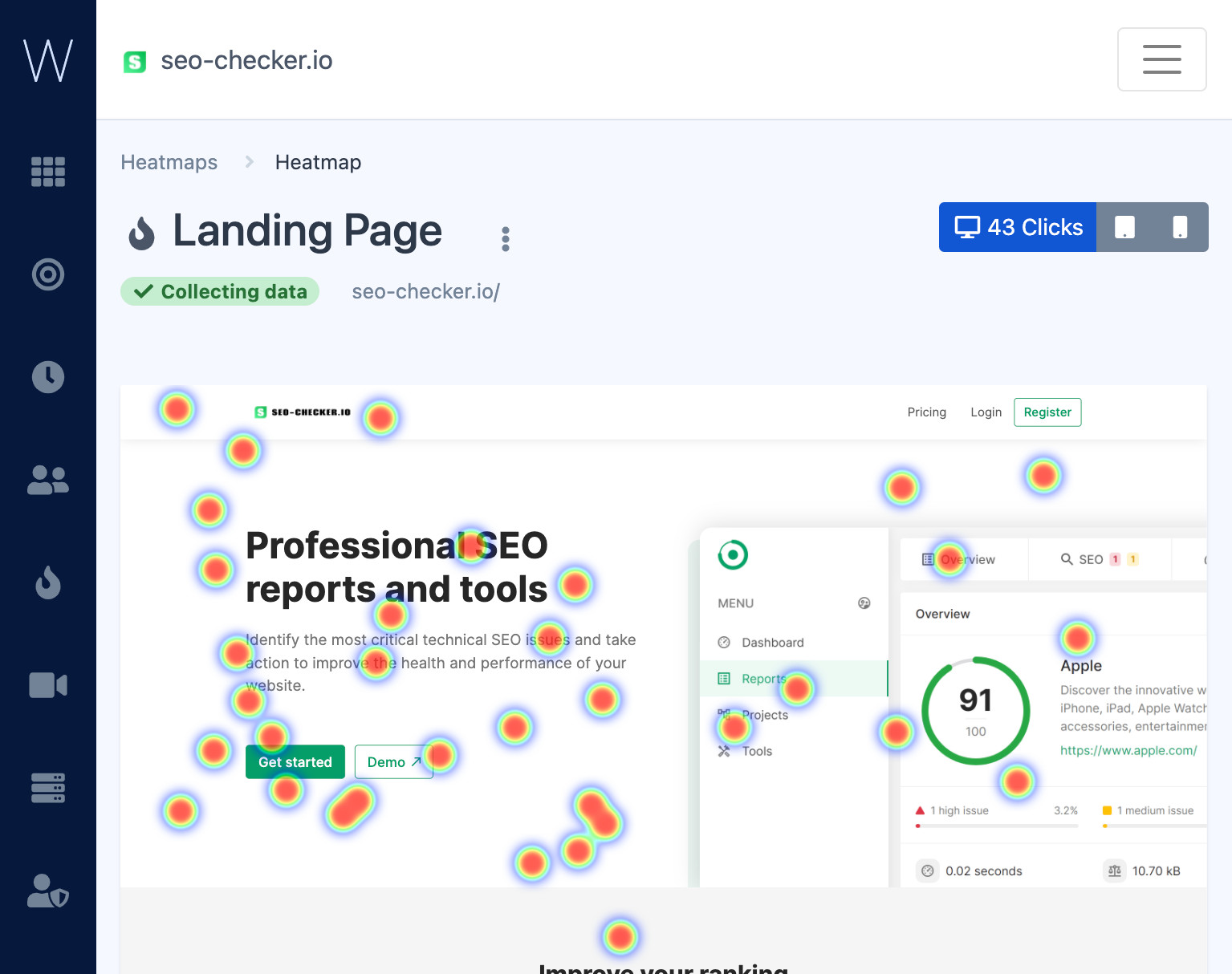 Benefits
How we deliver
results

to your business
Free
Perfect Way To Get Started
5,000 Pageviews Per Month
100,000 Visitor Events Tracking
30 Days Data Retention For Visitor Events
1,000 Sessions Replays
7 Days Data Retention For Sessions Replays
Unlimited Websites Heatmaps
Unlimited Tracked Goals
1 Custom Domain
Monthly Email Reports
Teams
API Access
Affiliate Access
Get Started
No card required, cancel any time
Pro
Perfect For Startups
50,000 Pageviews Per Month, Per Website
500,000 Visitor Events Tracking Per Month, Per Website
60 Days Data Retention For Visitor Events
2,500 Sessions Replays Per Website
14 Days Data Retention For Sessions Replays
Unlimited Websites Heatmaps
Unlimited Tracked Goals
5 Custom Domains
Monthly Email Reports
Teams
No Ads
API Access
Affiliate Access
Start 30 days free trial
No card required, cancel any time
Premium
Perfect For Growing Companies
100,000 Pageviews Per Month, Per Website
1,000,000 Visitor Events Tracking Per Month, Per Website
90 Days Data Retention For Visitor Events
5,000 Sessions Replays Per Website
30 Days Data Retention For Sessions Replays
Unlimited Websites Heatmaps
Unlimited Tracked Goals
10 Custom Domains
Monthly Email Reports
Teams
No Ads
API Access
Affiliate Access
Start 30 days free trial
No card required, cancel any time
Free
Perfect Way To Get Started
5,000 Pageviews Per Month
100,000 Visitor Events Tracking
30 Days Data Retention For Visitor Events
1,000 Sessions Replays
7 Days Data Retention For Sessions Replays
Unlimited Websites Heatmaps
Unlimited Tracked Goals
1 Custom Domain
Monthly Email Reports
Teams
API Access
Affiliate Access
Get Started
No card required, cancel any time
Pro
Perfect For Startups
50,000 Pageviews Per Month, Per Website
500,000 Visitor Events Tracking Per Month, Per Website
60 Days Data Retention For Visitor Events
2,500 Sessions Replays Per Website
14 Days Data Retention For Sessions Replays
Unlimited Websites Heatmaps
Unlimited Tracked Goals
5 Custom Domains
Monthly Email Reports
Teams
No Ads
API Access
Affiliate Access
Start 30 days free trial
No card required, cancel any time
Premium
Perfect For Growing Companies
100,000 Pageviews Per Month, Per Website
1,000,000 Visitor Events Tracking Per Month, Per Website
90 Days Data Retention For Visitor Events
5,000 Sessions Replays Per Website
30 Days Data Retention For Sessions Replays
Unlimited Websites Heatmaps
Unlimited Tracked Goals
10 Custom Domains
Monthly Email Reports
Teams
No Ads
API Access
Affiliate Access
Start 30 days free trial
No card required, cancel any time